It's a Comfort-ing New Feeling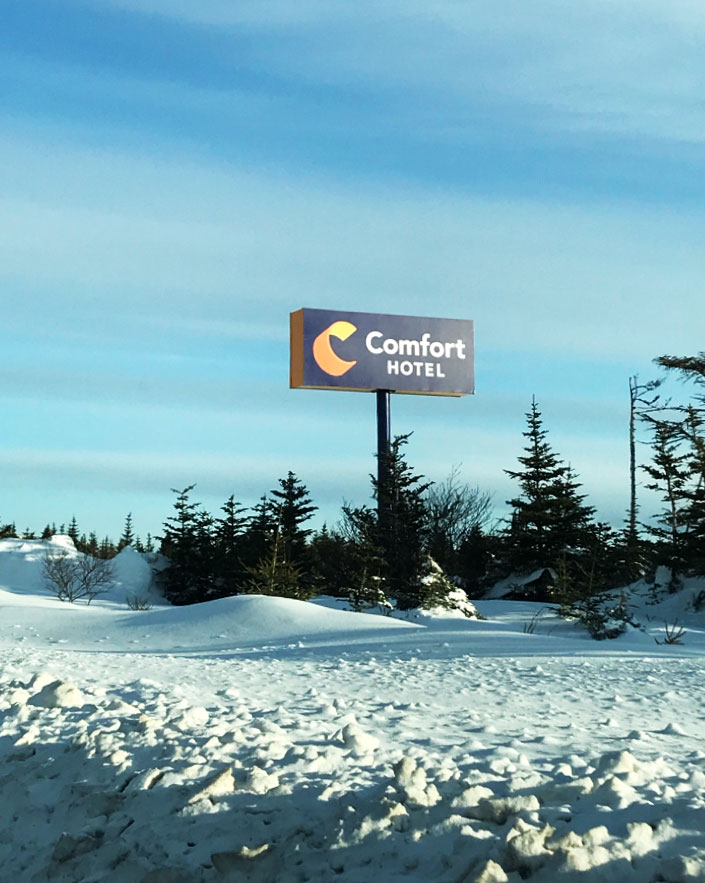 The landscape in the hotel industry has changed dramatically over the past several years, "Now we compete online for business and every single word matters," says  Judy Sparkes-Giannou, co-owner of the formerly named 'Comfort Inn Airport."We really needed to own our space because this property is a full service hotel, not an Inn! The word 'Inn' is not reflective of our offering; our full production kitchen preparing farm fresh meals paired with our terrific meeting space plus 144 guest rooms clearly makes us a lot more than an Inn!"
Locally owned and operated 100% by the Sparkes family, hoteliers in the province since 1968, the new sign for the Comfort Hotel St. John's went up this week!
'It's a big week for us', says Sparkes-Giannou. 'Not only are we repositioning the property as a hotel, a locally owned hotel, we are once again visible from Portugal Cove Road.' Several years ago the parent company, Clayton Hospitality Inc. purchased the land across from the hotel with the intent to expand the parking and gain visibility. 'The development journey is not for the faint of heart and I am honestly thrilled to see that sign finally go up."
That's not all that's new at the Comfort Hotel St. John's. A block of 33 guest rooms are about to be refurbished and just recently the Hotel upgraded their breakfast offering. Sparkes-Giannou says she is no fan of the buffet and much prefers a served breakfast herself. " Our hotel guests can relax at Clancy's Kitchen + Bar and enjoy a hot served breakfast, freshly prepared with real eggs just the way they like them – no microwaved eggs served here!'.
The new Comfort Hotel St. John's also enjoys being the 'only child' of Choice Hotels Canada in the St. John's market since the Quality Hotel recently changed course. Guests can continue to enjoy all the benefits of the brand at the Comfort Hotel. Clayton Hospitality is jointly held by Sparkes-Giannou and brothers Bruce and Stephen Sparkes. Their interests include the Quality Hotel, Clarenville and the Comfort Inn, Gander.